I enjoy finding unexpected connections between different fields: tennis and statues, cycling and positivism, philosophy and the fantastic, regional identity and poaching…. My research focuses on nineteenth-century France, but I am sometimes persuaded to move into other areas
You can see a list of all my publications on my CV. Here are a few highlights.
Books
Paris Walks. Published by BYU's International Study Programs. I wrote this book with my colleagues Marc Olivier and Rob Erickson, both faculty members at BYU. The book is designed for students who visit Paris on study abroad programs and can be purchased from the BYU bookstore.
Articles
Studies of the fantastic and attempts to define the fantastic as a genre have always presupposed a human-centered ontology. But the anthropocentric hierarchies of Enlightenment thought, embodied by the philosophy of Immanuel Kant, are precisely what the fantastic seeks to undermine. The fantastic posits a flat ontology where humans and objects stand on equal ground, where objects
act, and where human subjects are objectified. After tracing a line from Kant to Théophile Gautier through E. T. A. Hoffmann, this article considers other fantastic narratives by Mérimée and Maupassant to suggest how the fantastic undermines an Enlightenment human-centered worldview while theorizing the hidden life of things. This reading leads us to tentatively redefine the fantastic as a form of speculative realism, as a genre that takes the presence and perspective of objects seriously and that embeds this object-oriented ontology into the texts in ways that trouble the reader's subject-centered consciousness.
Given that Prosper Mérimée worked for many years as France's inspector of historical monuments, it is not surprising that his fictional narrators manifest what may be considered an unhealthy obsession with ancient practices and beliefs, particularly with their unknowable origins. Antonia Fonyi calls this obsession Mérimée's "passion pour l'archè" – the archè being the inscrutable primordial
beginnings of life and culture. I argue that inscrutable and even violent origins are not only associated with obvious symbols of the past but are subversively present in practices that are completely ordinary – practices that remain acceptable and that are considered ubiquitous in French society of the nineteenth century. In other words, Mérimée shockingly suggests that modern quotidiana hearken back to primitive disorder, that the mundane is built on forgotten violence. Of all the practices that embody French cultural refinement and superiority, none may be more significant than eating and its highest (or at times lowest) expression: the feast. Over the course of the nineteenth-century, France's growing consciousness of regional traditions certainly accelerated the tendency to associate French culture with feasting. In this article I look primarily at two works, Lokis (1869) and La Vénus d'Ille (1837), and suggest that Mérimée routinely undermines the prevailing attitudes regarding feasting and cultural capital by showing that dining, a ritualized practice of restraint and refinement, frequently reveals the primitive disorder it seeks to regulate.
On May 10, 1851, the leftist agitator Claude Montcharmont was guillotined in Lyon. His rebellion against the state began when his mayor refused to grant him a hunting license. Forest guards attempted to arrest him for poaching but for months he evaded the
authorities (killing two of them) and found help from locals who saw them as one their own. Dubbed Le braconnier du Morvan, Montcharmont came to symbolize regional identity and resistance to Parisian centralization and French national identity. Maurice Genevoix's 1925 Goncourt-winning novel Raboliot tells the tale of a poacher, Raboliot, and his nemesis, the gendarme Bourrel. Like
Montcharmont, Raboliot begins as a fairly benign poacher, trapping and selling rabbits on occasion, but ends up in open warfare with the forest guards and gendarmes. Instead of beginning conventionally with a description of the eponymous character, the novel commences with the rather surprising description of a drainage pond. This pond and the numerous canals mentioned throughout the text subtly point the reader to the novel's central polemic; namely the conflict between autonomous regional identity and the imposition of centralized French control. The central government had drained the swamps of the Sologne region and built networks of canals, roads, and rails to connect the region's cities to each other and to Paris. Raboliot, who is frequently described as an extension of the land itself, fights against this centralizing tendency, eventually murdering the primary representative of the "foreign" national government.
"Prosper Mérimée et le jeu." Cahiers Mérimée 4 (2012): 101–110.
This article examines the symbolic significance of games in Mérimée and suggests they form a central organizing feature of his narratives by introducing chance and primitive rituals that hide behind the veneer of sport in contemporary French culture.
Prosper Mérimée wrote "Federigo" in 1829 and republished it in his 1833 collection Mosaïque. The story's protagonist, thanks to a rigged deck of cards, is able to defeat Death, the devil, and to ultimately cheat and gamble his way into heaven. With very few exceptions, scholars have either dismissed the story as derivative or have ignored it entirely. In this article I theorize an explanation for some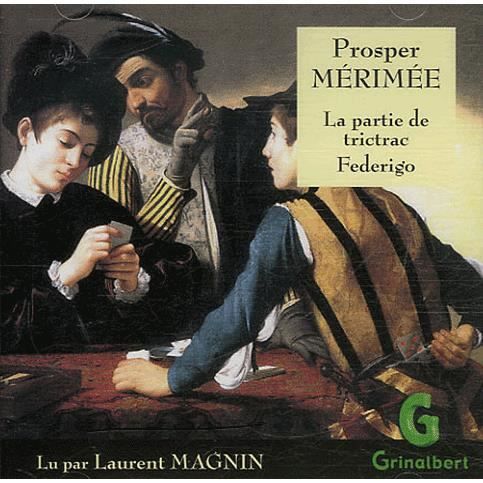 of the differences between Mérimée's story and its folk-tale antecedents, consider why Mérimée selected this story to begin with, study the original details he added, and suggest why he added them. By combining faith, gambling, and a can't-lose wager, "Federigo" calls to mind a fixture of the French philosophical tradition, namely Blaise Pascal's Pensées. Ultimately I argue that in "Federigo" Mérimée creates a narrative that can be read as an attempt to undermine Blaise Pascal and his famous celestial wager.
Known for literary hoaxes early in his career (notably Le Théâtre de Clara Gazul and La Guzla), Mérimée seems to have formally abandoned them once his reputation was established. Yet disguises, questions of authorship, and challenges of generic conventions persist throughout Mérimée's œuvre. Indeed, the hoax continues to
operate as an organizing principle in all his fiction. Mérimée's stories force readers to examine both their ideas concerning conventional literature and, more importantly, their perceptions of conventional values of the so-called civilized world. By centering his narratives on what might be called a hoax ethos, Mérimée questions cultural expectations of gender, morality, politics, and honor while subtly undermining dominant, hegemonic discourse in nineteenth-century France.
As Inspector of Historical Monuments, Prosper Mérimée traveled extensively throughout France and became keenly aware of how Orleanist policies transformed the country's social and economic power structure. What seemed to trouble him the most was the rise of a certain bourgeois morality that reinforced this emerging power structure by putting money ahead of love, chastity ahead of freedom, the social dit-on over real charity and virtue. Mérimée's most iconic narratives of the July Monarchy period, "La Vénus d'Ille" and "Carmen," parody and undermine this new dominant morality by fictionally allegorizing the tensions between Parisian bohemia and the new middle class.
Book Chapter
Alfred Jarry's final novel, Le Surmâle (The Supermale), published in 1902, is the first French novel to bring doping and cycling together. I read the text primarily as a cycling novel that takes as its theme the relationship between man and machine. Critics have noted Jarry's admiration for machines and, as biographer Alastair Brotchie notes, for "the technological perfectibility of man." I argue that Jarry's novel offers on the contrary a warning against machines and
a note of cynicism toward positivism and its attendant scientific optimism regarding human perfectibility. To lay the groundwork for my reading of The Supermale, I first trace attitudes toward doping and human performance in nineteenth-century France and examine the role played by the bicycle in scientific studies on human performance during the Belle Époque. After examining Jarry's novel, I make a case that the ideology of nineteenth-century French positivism, though criticized by Jarry, remained entrenched in cycling culture only to manifest itself in doping scandals and in fiction a century later.
Other
For several years a few colleagues and I authored a blog called The Sports Academic. On a rare occasion I still post there… Here are a few of my favorite entries: "Living on the Grid: How American Football Relates To Wall Street's Woes"; "Defining Sport"; and "The Olympics and the Franco-Prussian War."
I also (occasionally) maintain a site on Prosper Mérimée that includes a timeline of the author's life, an (occasionally) updated bibliography of recent critical works and a number of English translations of his works, including Carmen, The Venus of Ille, and Mateo Falcone.
Editorial in Libération About Commercialization of Olympics
Editorial in Libération About Doping in the Tour de France
Interview on BYU Radio's Thinking Aloud about Mérimée's Carmen
Interview on BYU Radio's Thinking Aloud about Playing at Monarchy